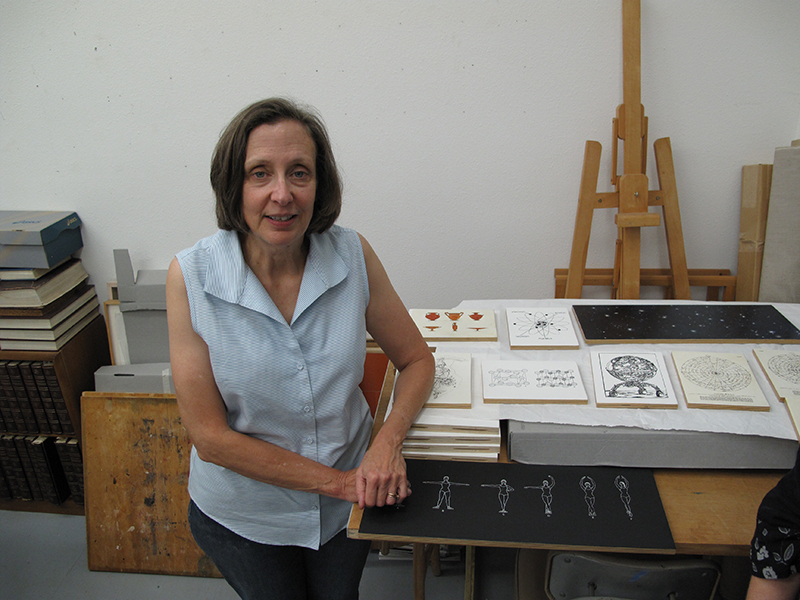 In 2012 I was fortunate to have Master Printer Leslie Sutcliffe Cohn invite me to contribute to her 20/20 Project at El Moro Editions.
The 20/20 Project, begun in 2011, will include an etching by each of El Moro's visiting artists until the year 2020. These prints will be produced in an edition of 40. Twenty suites of prints will be distributed to the participating artists; some of the suites will become part of the permanent collections of various institutions and the remainder will be available to the public. It is our hope that the 20/20 Project will foster a dialogue between the participating artists as well as an enhanced interest in and understanding of etching processes and their place in the digital age.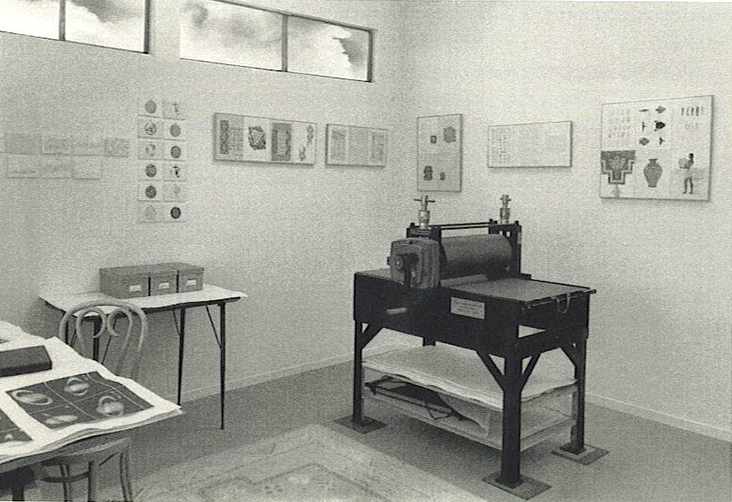 Here is a link to the Facebook for El Moro Editions: https://www.facebook.com/El-Moro-Editions-214966545344434/
The relationship between the printer and the artist is -essentially- a collaboration. Leslie is an amazing artist herself, teaches art history and printmaking at Cuesta College and is able to figure out what her artists are trying to do. I started with a small zinc plate, 5-1/2 by 8-7/8in. We thought we should print on a grey paper like I used on my ink drawings. Leslie found a beautiful light grey Stonehenge and tore it to size.
On Little Buddha we used only hard ground and a little bit of drypoint and burnishing. I worked in a way that is similar to my small ink drawings (that you can read about elsewhere on this site). Etching generally allows finer detail then drawing, gives a third dimension in the line and the plate gives a beautiful tone to the paper. After we got Little Buddha to BAT ("bon à tirer" or "good to print" in French).
Little Buddha is included in El Moro Editions 20/20 Project: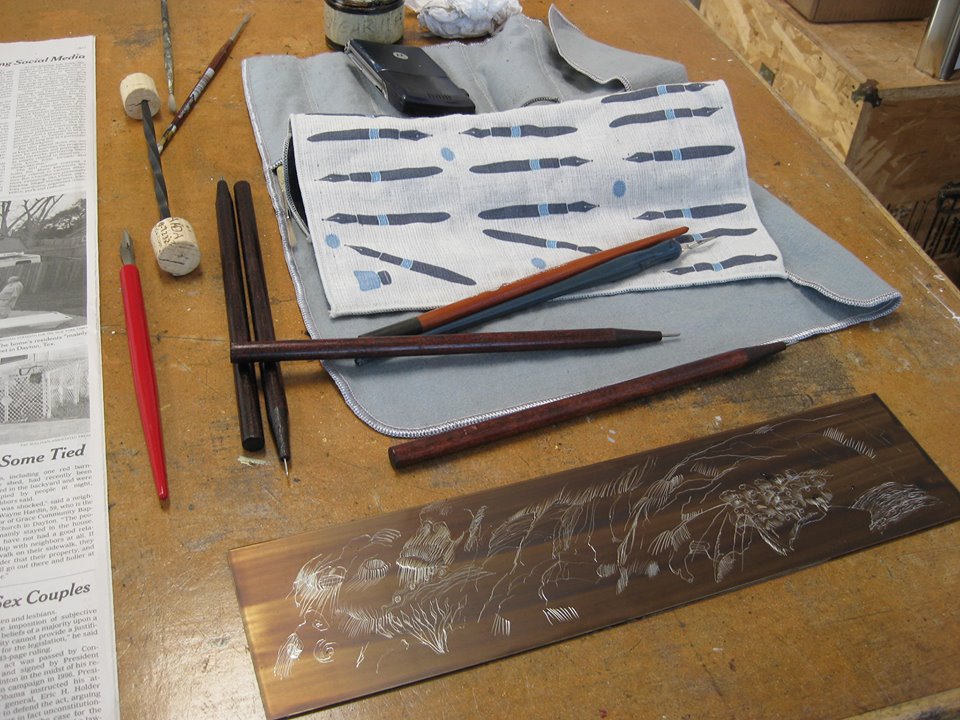 I was fortunate to have Leslie help me with a few of my own pieces.We decided on hard ground, drypoint, sugar lift and aquatint to keep it simple for me.
Left and right are reversed when you print and black and white are reversed when you draw. But unlike a drawing the line has a beautiful soft texture and a dimension in the Z plane. If you love etching you know what I mean, the line makes a microscopic shadow that begs to be examined up close.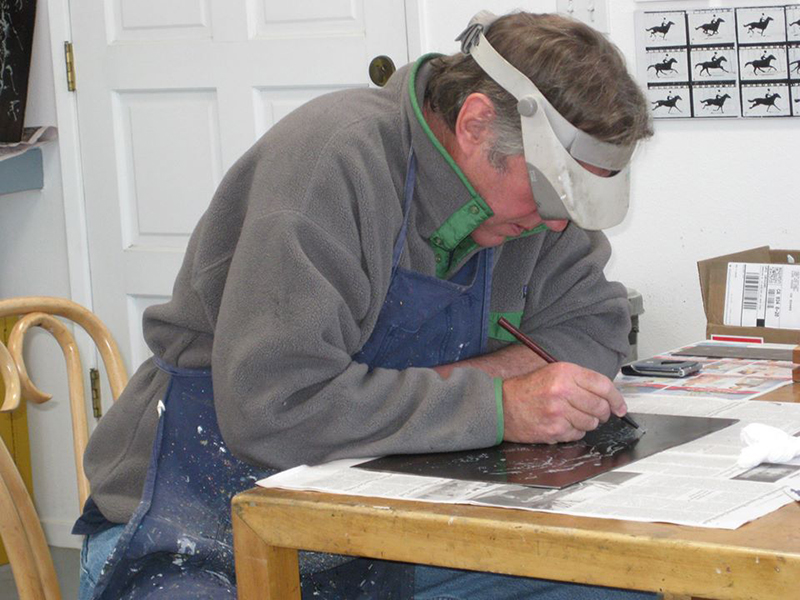 Leslie was very patient and let me start jamming on them. She inked and wiped each plate more than a dozen times before we were happy with the result and always had great suggestions on how to make interesting stuff happen and how to minimize unpleasant surprises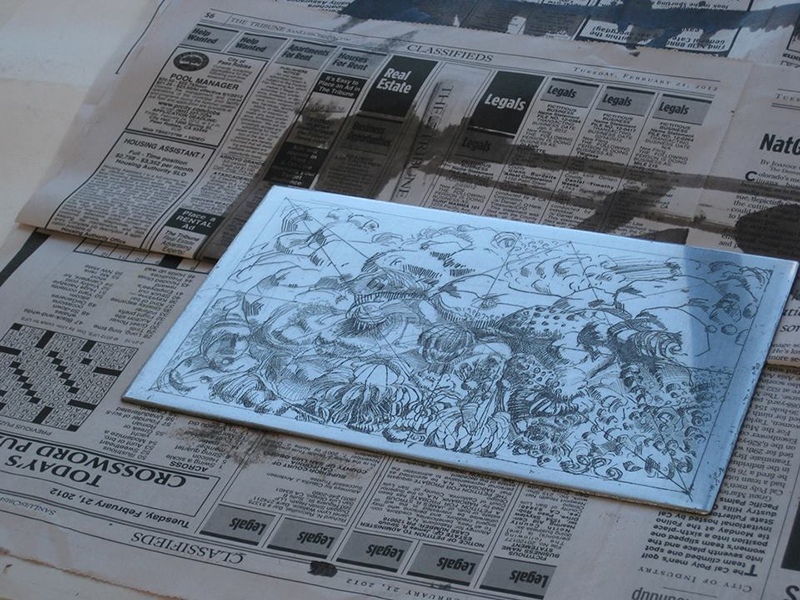 Horse Bites Dog: like the next two pieces, is titled by what emerged; the Guernica horse, distant clouds, view of Mount Fuji, crabs, cats and birds. by intention and accident in the production. As things appear we tried to help them along or mourn them when they got submerged, hopefully superseded by items that were more evocative. When you are working fast sometimes you have to work past your perception and work in a way that allows accidents and intention to coexist.
Shetland Pony: strange animals, spaceships, medieval armor, giant beetles, a gryphon, distant mountains, floating clouds, dancing goats, sunset through the trees.
Running Moon Man: Robots and clowns, nebulae, dragons, and moon creatures.
A Great Fleet of Galleons Bound Our Way: Apologies to Richard Wilbur, the towering whipped cream in this could almost be mistaken for galleons under sail, or maybe a little dutch girl talking to a frog while the "galleons" break up some brutalist architecture.
Across a Moiled Expanse of Tossing Hay: More apologies to Wilbur but once I put in the moiled hay it just seemed to make sense.